Insurance & Banking Digital Displays & Backlit LED Displays
DIGITAL & BACKLIT SIGNAGE SOLUTIONS FOR SOLUTIONS FOR BANKING AND INSURANCE AGENCIES
VITRINEMEDIA has been committed for more than 10 years to Insurance & Banking Digital Displays in ensuring they are the most REMARKABLE!
The multitude of sizes in our LED ranges makes it possible to compose storefronts that look like you and only you!

PARTICULARLY ADAPTED TO THE NEEDS OF BANK AND INSURANCE AGENCY WINDOWS!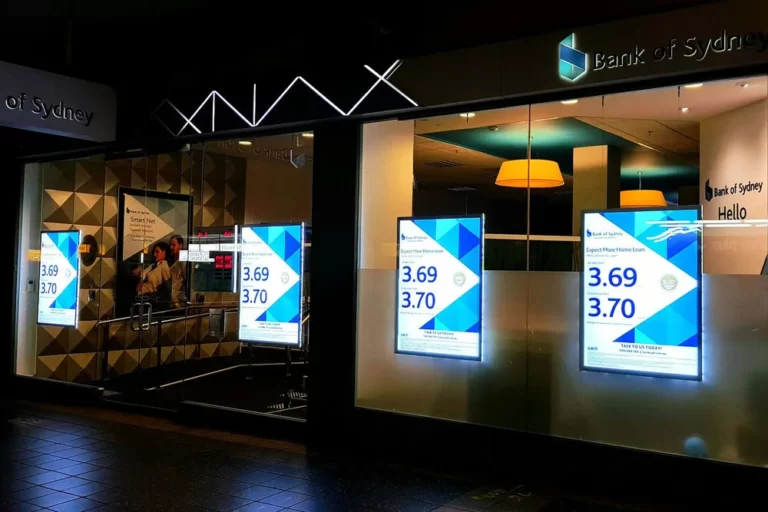 IN WINDOW BANKING DIGITAL & SIGNAGE BACKLIT LED DISPLAYS

LED POSTER-HOLDERS ARE AVAILABLE FROM A4 TO A0, INCLUDING BANNERS, OR ROUND, SQUARE, AND DIAMOND FORMATS, MAKING IT POSSIBLE TO DISPLAY YOUR PROPERTIES AND MANDATES IN A STRIKING AND EFFECTIVE WAY.
BE SEEN! DRIVE ENGAGEMENT!
Display systems to help present property listings with ease
If you're setting up a brand new Insurance or Banking branch or are relocating from your old premises, you'll understand just how important it is to make the best use of your office space. Insurance & Banking window displays allow you to promote your current for sale listings, helping you capture the attention of people who may not yet be actively in the property market but might just be walking by and spot what could become their dream home.
INSURANCE & BANKING LED DIGITAL AND BACKLIT TO GRAB ATTENTION
To differentiate yourself from your local competitors, our solutions for Insurance & Banking LED Displays – including video walls – allow you to display exclusive content about your agency, your team, your know-how, your customer reviews, etc.
A CONSISTENT BRAND IDENTITY ACROSS YOUR NETWORK

Simple and effective setup.
Thanks to the ceiling-mounted electrified rails system, the LED poster-holders ranges are easy to install and deploy, both for new branches and renovations.
Institutional communication, commercial campaigns, local information specific to an agency, all your messages become impactful right from your shop window!