VM PANORAMIC BANNER SERIES
PANORAMIC LED WINDOW DISPLAY
Revolutionize your communication with our large format VM PANORAMIC Window Display Banner. The innovative and hybrid panels allow you to increase your visibility by communicating elegantly while respecting window display codes. Make the most of this solution to market your brand and
your services. Compatible with A4 or A3 VM TWO displays
BACKLIT LED DISPLAY PANELS FOR REAL ESTATE, travel agencies, retail & cafe
The LED displays in panorama format are particularly suitable for large shop window areas. Thanks to the landscape format, company logos and slogans can be staged very effectively. The unique luminosity is visible from afar.
The panorama formats were conceived as a superordinate element of a shop window presentation in order to integrate further display strands in smaller formats. This gives you additional brackets to place the VM TWO model underneath. True to VitrineMedia's motto of giving its customers maximum flexibility and compatibility in one product, combined with very simple handling. This is how VitrineMedia lives up to its position as an innovative, market-leading manufacturer in the field of LED displays.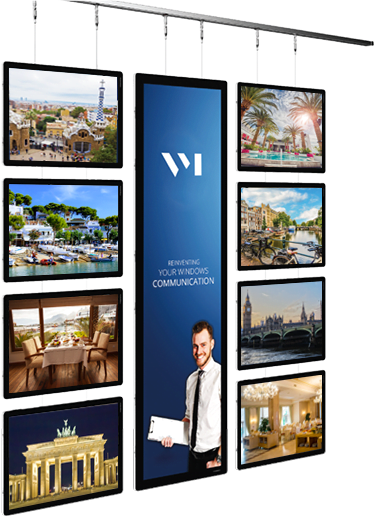 DOUBLE SIDED & multi orientation
Replicate your front facing image with the same image facing in-store, or use a different image on one side. Double advertising on one panel in both landscape and portrait orientation
INNOVATIVE CONNECTORS
Innovative connectors and hanging system makes for an easy and simple installation or when changing the orientation of the display panels.
HIGH LUMINOSITY
With 3500 LUX (S) – 4000 LUX (L), the Panoramic LED Display Banner is the brightest LED illuminated panel in this style on the market today.
ULTRA THIN
Our displays take very little space as they are only 10mm thick – The thinnest in the market today
Low Voltage
24 Volt system
Long term
Up to 80,000 hours of use
 
 

Technical Data

 

General

Visual dimensions [MM]

1020×350

1392×350

Product reference

1014215002

1011716002

1014215001

1011716003

Product label

VM

PANORAMIC

BANNER S BLACK

VM

PANORAMIC

BANNER S SIL/W

VM

PANORAMIC

BANNER L BLACK

VM

PANORAMIC

BANNER L SIL/W

Orientation

Landscape / Portrait

Landscape / Portrait

Front panel color

Black

Silver

Black

Silver

Back panel color

Black

White

Black

White

Net weight [KG]

6.69

8.97

Electricity

Input voltage [V DC]

24

24

Max power [W]

14.21

21.31

Max intensity [A]

0.63

0.86

Luminosity

Front side [LUX]

2500

2800